Now your, rough, painfully dry skin
can be the picture of health.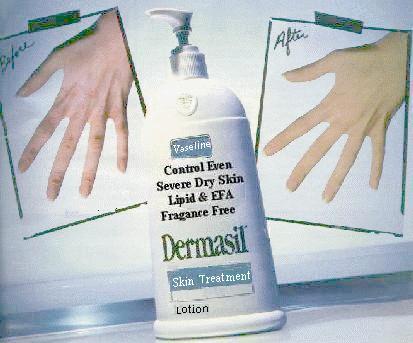 Introducing Dermasil.
New from Vaseline Pharmaceutical Research.
If your skin is so dry it's sore, cracked, rough, red chapped, itchy or flaking, it can affect almost everything you do. At last there is a breakthrough. From Vaseline ResearchTM comes new Dermasil Pharmaceutical Dry Skin Treatment. A four-tier formula that's clinically proven to control all seven symptoms of severe dry skin. This advanced hand and body treatment works not just to add moisture, but to add crucial lipids, which are found in normal, healthy skin. These lipids work to help repair the skin 's natural moisture barrier. Try new Dermasil lotion, cream or concentrate. And you could have the healthy skin you've always pictured.
Photos simulate clinical result. © 1994 Chesebrought-Ponds Usa, co.