Sebastian E. Godoy Medel, PhD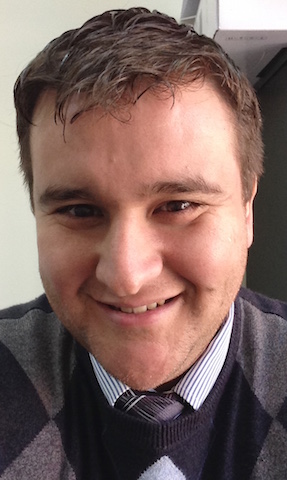 Ph.D. in Engineering, The University of New Mexico, 2015.
M.S. in Electrical Engineering, University of Concepcion, 2009.
B.S.E. in Electrical Engineering, University of Concepcion, 2006.
Phone: +56 (41) 220-3401
Email: segodoy at udec dot cl
Office: 209 I. C. Biomedica Buildling
Mailing Address: Edmundo Larenas 219, Concepcion, Chile 4030000

---
Research
Digital image processing
Digital signal processing
Detection theory
Communication-theoretic approaches for biomedical applications
Biomedical engineering
Imaging systems
My research mainly focuses on the application of advanced imaging systems to address biomedical problems such as the early detection of skin cancer, providing guarantees of reliability, accuracy and performance.
---
Publications
See complete list.

Citations (total): 56
h-index: 5
i10-index: 1

Source: Google Scholar
---
Students
Current graduate students
I am currently looking for new graduante students that are interested in one of the areas mentioned above.
Former graduate students
None
Current undergraduate students
Felipe Seguel, Ing. Civil en Telecomunicaciones (2015)
Pablo Rogriguez, Ing. Civil en Telecomunicaciones (2015)
---
Teaching
Agenda
Current Semester (2015-2)
Lecture Notes
Previous Semesters
Laboratorio de Sistemas de Comunicaciones (2007, 2008, 2010)
Sistemas de Comunicaciones (2007, 2008, 2009)
Laboratorio de Redes de Datos (2007)
Redes de Datos y Comunicaciones Industriales (2008)
Comunicaciones Digitales (2008, 2009, 2010)
Dispositivos Semiconductores (2010)
Procesamiento Digital de Senales (2010)
549-106 - Sistemas y Senales (2015)
549-195 - Procesamiento Digital de Imagenes (2015)